SPORTS
#GoACC Power Rankings: Week 2
Continuing the timeless tradition of #GoACC football, we rank 'em from top to bottom.
1. No. 1 Florida State
Record: 1-0, 0-0 ACC
Last Week: 37-31 W vs. Oklahoma State
This Week: vs. Citadel
Though the final score wasn't the strongest statement by the defending champs in their opener, it's hard to pick against any team with a guy like this:
The Fresh Prince of College Football strikes again.
2. No. 25 Louisville
Record: 1-0, 1-0 ACC
Last Week: 31-13 W vs. Miami
This Week: Murray State
Louisville's defense managed to contain Miami's Duke Johnson to fewer than 100 all-purpose yards and fluster freshman quarterback Brad Kaaya into a few costly mistakes. Though the team looked extremely fast against the 'Canes, it will be interesting to see them play a veteran-led offense.
Sophomore quarterback Will Gardner needs to protect the ball if this team is going to have any shot at an ACC title, as his two fumbles inside Louisville's own 20 could have cost the team far more than the three points it did.
3. No. 23 Clemson
Record: 0-1, 0-0 ACC
Last Week: 45-21 L @ Georgia
This Week: vs. South Carolina State
The Tigers wandered between the hedges last weekend and the Dawgs responded by pouncing all over their visitors. I have no doubt Clemson will not win a national title this year, but at least this year they probably won't Clemson their chances away — they didn't have a chance to begin with.
Obvious statement of the decade: the post-Tajh Boyd/Sammy Watkins era will be an adjustment early this year for Clemson's offense. Georgia gave the Tiger defense the business, but Todd Gurley is one of the best players in the country so we'll reevaluate the unit after they face more #GoACC-appropriate competition.
4. Duke
Record: 1-0, 0-0 ACC
Last Week: 52-13 W vs. Elon
This Week: @ Troy
With one of the better quarterback-receiver tandems in the league in Anthony Boone and Jamison Crowder, the Blue Devils could very well put up close to 50 points on a good number of the teams they face this season other than Elon — only one of which is currently ranked, No. 21 North Carolina. Otherwise, last week's game was exactly what one would expect when pitting the defending ACC Coastal champs against a feeble, in-state CAA opponent that won two games last year.
5. Miami
Record: 0-1, 0-1 ACC
Last Week: 31-13 L @ Louisville
This Week: vs. Florida A&M
Opening the season Monday night on the road against Louisville was a challenge for which first-time starter Brad Kaaya did not look ready, but the freshman should improve as the season wears on. This should help take the pressure off Duke Johnson, who will undoubtedly be counted upon to carry the offense.
Yet had Johnson's nearly 40-yard reception to the 5-yard line not been called back for a questionable ineligible man downfield when Miami trailed 24-13 early in the final quarter, the final score could have been very different.
6. No. 21 North Carolina
Record: 1-0, 0-0 ACC
Last Week: 56-29 W vs. Liberty
This Week: vs. San Diego State
The Tar Heels may have given their fans quite the scare last Saturday, falling behind 22-21 to mighty Liberty late in the third quarter, but they eventually reminded us of what they do instead of going to class by pulling away with a 34-7 run.
Still, the fact that quarterback Marquise Williams threw a pair of interceptions to a substantially inferior opponent while the game was still very much contested raises questions as to whether Williams can even read a defense, much less a book.
7. Virginia Tech
Record: 1-0, 0-0 ACC
Last Week: 34-9 W vs. William & Mary
This Week: @ No. 8 Ohio State
The Hokies' national championship dreams are still alive after a resounding win against William & Mary!
Maybe transfer quarterback Michael Brewer will find success in Blacksburg, but unlike ESPN I won't bestow the "impressive debut" accolade upon him until he plays a school that is more famous than the colonial town where it's located. Buckeyes, you have the floor.
8. Pittsburgh
Record: 1-0, 0-0 ACC
Last Week: 62-0 W vs. Delaware
This Week: @ Boston College
The Panthers managed to skirt by an FCS team by the slimmest of margins without Tom Savage, Devin Street and Aaron McDonald, all of whom departed for the 2014 NFL Draft. Again, it's always hard to evaluate an offense that scores 62 points objectively when its line boasts a 50-pound per man size advantage, but Pitt could be a dark horse candidate in the ACC Coastal this season.*
*Completely contingent upon the severity of sophomore receiver Tyler Boyd's hand injury.
9. Virginia
Record: 0-1, 0-0 ACC
Last Week: 28-20 L vs. No. 7 UCLA
This Week: vs. Richmond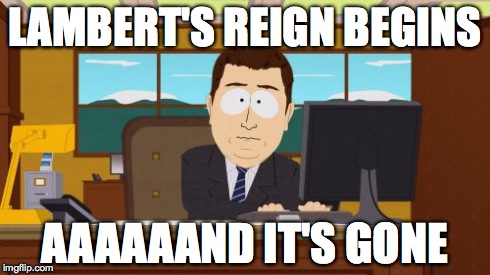 It wouldn't be Virginia football if there wasn't a quarterback controversy, right? I distinctly heard a collective groan throughout Charlottesville when Mike London announced that both quarterbacks would play this weekend.
Fine Mike, but you have to pinky swear that this is the last time!
Quote of the day, in my opinion: "Man….Virginia…what a pain in the ass." -Jeff Ulbrich, UCLA Defensive Coordinator

— Marilyn Payne (@marilyn_payne) August 30, 2014
I'm with you, Jeff.
Side note: the Cavalier defense, wow.
10. Georgia Tech
Record: 1-0, 0-0 ACC
Last Week: 38-19 W vs. Wofford
This Week: @ Tulane
What is with all of these ACC teams playing cupcakes in the first week? Play a real team and be proud when you only lose by one score, you bunch of sissies.
But I suppose a 38-19 win against Wofford is still better than the day former Georgia Tech starting quarterback Vad Lee — now at James Madison — had in College Park against Maryland. Lee was at the receiving end of a 52-7 Terrapin whooping, going 16-of-37 for 141 yards and two interceptions.
11. Syracuse
Record: 1-0, 0-0 ACC
Last Week: 27-26 W (2OT) vs. Villanova
This Week: @ Central Michigan
It may have taken two overtimes to beat Villanova, one of many CAA teams to play ACC teams last week, but at least the Orange's starting quarterback didn't punch anyone in the face and get ejected…
Guess I spoke too soon.
12. North Carolina State
Record: 1-0, 0-0 ACC
Last Week: 24-23 W vs. Georgia Southern
This Week: vs. Old Dominion
Even though a Sun Belt team played the Wolfpack to a one-point game, a win's a win, I suppose. At least they didn't lose to a Sun Belt team — more on that later.
13. Boston College
Record: 1-0, 0-0 ACC
Last Week: 30-7 W @ Massachusetts
This Week: vs. Pittsburgh
The Eagles cruised in their first game post-Andre "2,000" Williams, albeit against Massachusetts. A seven-win team last year, next week's game against Pittsburgh should yield significant insight into how high Boston College may fly this year.
Get it? Because the team's mascot is a bird.
14. Wake Forest
Record: 0-1, 0-0 ACC
Last Week: 17-10 L @ Louisiana-Monroe
This Week: vs. Gardner-Webb
First they lose Michael Campanaro — the ONLY bright spot on last year's team — to the NFL Draft, now this? The only thing demonic about the Deacons is how they torture their fan base not only by opening on the road against a Sun Belt team, but also by losing to the aforementioned Sun Belt team. Ninety-four yards of total offense AGAINST A SUN BELT TEAM!
At what point do we trade Wake Forest to Kentucky for their washing machine?
15. No. 17 Notre Dame
Record: 1-0
Last Week: 48-17 W vs. Rice
This Week: vs. Michigan
Notre Dame will remain in last place on this list until the Irish just join the conference already. Ball's in your court, Swarbrick.
---
Published September 2, 2014 in
Sports