A search for Korean comfort food away from home
Move aside, chicken noodle soup — Spicy rice cakes and warm tofu stew are where it's at
Tteokbokki is a Korean dish that has stir-fried rice cakes, typically served spicy when mixed with gochujang, a type of Korean chili paste.
Elise Kim | Cavalier Daily
When you think of Asian comfort food, you probably think Got Dumplings, ramen or Chinese takeout. Now that we're approaching hibernation season, however, there's nothing more satisfying than some good old-fashioned Korean food. I'm talking tteokbokki (떡볶이), bibimbap (비빔밥), bulgogi (불고기), galbi (갈비) and sundubu (순두부).
Some background information on these traditional dishes — Tteokbokki is stir-fried rice cakes typically served spicy when mixed with gochujang, a type of Korean chili paste. The best bibimbap comes in a sizzling stone pot full of rice, mixed vegetables, an over-easy egg and sliced beef — thoroughly stirred together right before eating. Galbi is typically composed of short ribs marinated in soy sauce. Similarly, bulgogi is thin, marinated slices of beef or pork. Sundubu, or soft tofu kimchi stew, is served simmering in a stone bowl with vegetables and either seafood, pork or beef.
To try and find legitimate versions of these dishes in Charlottesville, I invited some friends along who grew up in the Korean food scene. We sought out Kuma Sushi Noodles & Bar on Elliewood Avenue and Doma Korean Kitchen on West Main Street to hopefully find something representative of our childhood in their cuisine.
We ordered comparable dishes at each restaurant to try. However, there were slight discrepancies in this comparison because in terms of a comfort meat dish, Kuma only offered bulgogi, while Doma only served galbi. We took this difference into consideration when we chose our winning restaurant.
At Kuma, we were pleasantly surprised by the tteokbokki's authenticity. First-year College student Sumin Lee found that it was relatively palatable.
"I think it's better than most restaurants' tteokbokki," Lee said. "I can't eat spicy food, but I think the spice level is good. I'd give it a seven out of 10."
Kuma's bibimbap and bulgogi, however, didn't quite meet our expectations. I personally found them nontraditional and bland, lacking the sweet but savory flavor punch that Korean food is known to pack.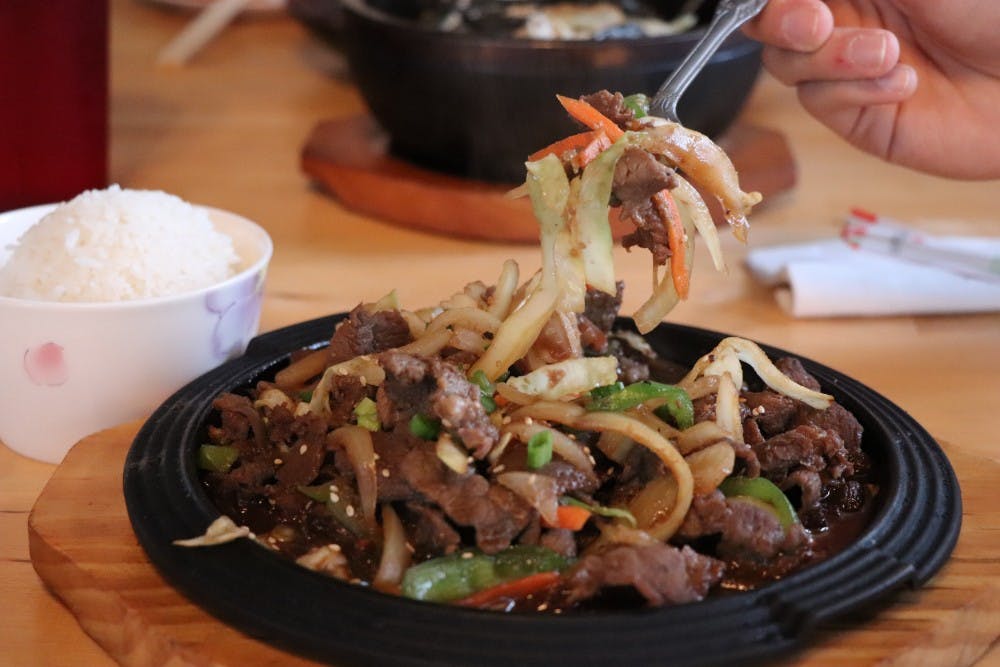 Bulgogi, thinly sliced marinated beef and vegetables, is a part of Kuma's array of Korean dishes.
Second-year College student Soobin Cho attested to this — both of the dishes were also oddly full of cabbage — an unusual addition to bibimbap and bulgogi.
"There's too many vegetables so it kind of defeats the purpose of bulgogi," Cho said. "I wish the ratio between bulgogi and vegetables was portioned more correctly."
Neither satisfied nor disappointed, we made the brisk 15 minute walk to Doma. The ambiance was lively and bustling in contrast to the quiet, homey feel that Kuma exuded. We agreed that this energetic vibe was more invigorating and waited in anticipation for our food. Because of its business, however, we did notice that we waited over twice as long for our dishes to arrive.
First-year College student Christian Ro, after trying the bubbling sundubu, found that it was reasonable, but vaguely average. This was particularly surprising given that this Charlottesville take on a go-to Korean stew is usually enjoyed by many, especially to recover from a cold or warm up from the cold weather.
"It's a bit on the sweeter side," Ro said. "I would give it a six and a half out of 10, not because it didn't taste good, but because it seems lackluster and not unique. On another note, I was sick, so having a warm brothy meal was satisfying and the soondooboo metaphorically detoxed my body."
Collectively, we were content with Doma's interpretations of bibimbap and galbi. The bibimbap reminded me of how my grandma would make it for me back home. The nostalgia was evident in my friends, as well.
"The Doma bibimbap definitely has more traditional ingredients than the one at Kuma and I like the texture of this one more," second-year College student Yubin Kang said.
Instead of cabbage, Doma includes more traditional ingredients like bean sprouts, mushrooms and carrots, balancing it well with the rice portions. Traditionally, some of the rice hardens as the stone pot continues to cook the bibimbap when it is served, termed nurongji (누룽지).
"Although the neurongji was still evident at the bottom of the pot, I felt as if it blended with the bibimbap much better," Cho said. I would give it a higher ranking than the one at Kuma, for sure."
Similarly, the galbi struck us as one of the highlights of the evening. First-year Engineering student Tae Chang was surprised at its unique flavor profile.
"It's not as sweet as most galbi that I've eaten but I like that better for some reason," Chang said.
For our final dish, Korean-fare-meets-American was written all over the tteokbokki slathered in melted cheese — a topping Doma offers for a small additional charge. Our reactions were definitely split on this modern take.
The tteokbokki at Kuma has a cheese that tops the dish — an untraditional ingredient to the Korean dish.
"It was more of a fusion dish. It was less traditional and had more American components to it," Lee said. "Taste-wise, I think I actually prefer Kuma tteokbokki more — Doma's felt like it was another dish."
In contrast, Cho thought the tteokbokki was visually appealing and enjoyed the cheese, especially because this trend has been on the rise with numerous Korean dishes.
After much debate as this hunt for Korean comfort food came to a close, we ultimately decided that Doma invoked more nostalgia for us. It was able to give us more of the satisfaction we needed to fulfill our cravings for the Korean food we missed from back home.
Elise Kim is a Food Columnist for The Cavalier Daily. She can be reached at .