news
Trump's decision to end DACA under fire
Two hundred gather to voice support for the Deferred Action for Childhood Arrivals program, an Obama-era policy Trump says he is rescinding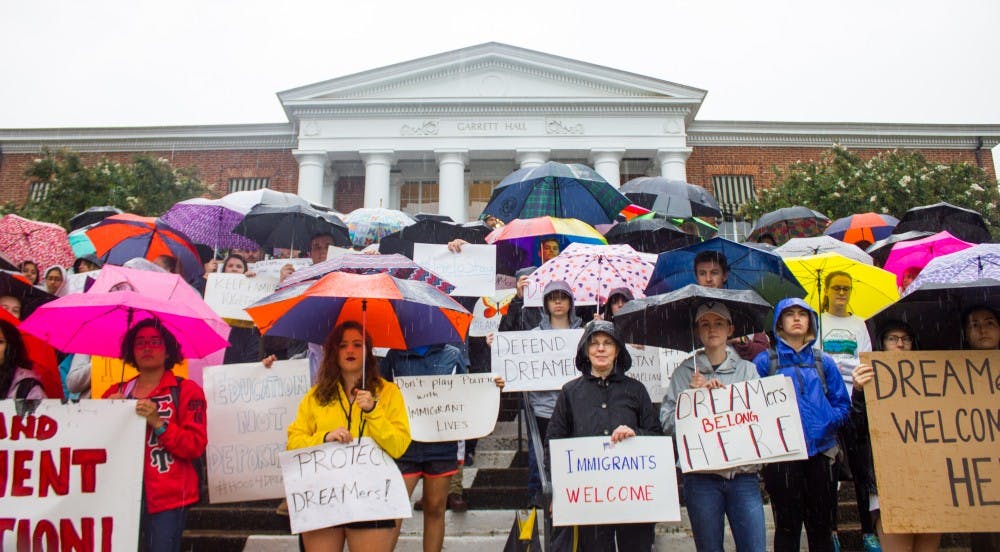 Hundreds of students showed up to protest Trump's decision to rescind DACA despite the weather.
Charlotte McClintock | Cavalier Daily
Members of the University community gathered in the rain Wednesday afternoon to demonstrate their support for Deferred Action for Childhood Arrivals program recipients. DREAMers on Grounds hosted the #HoosForDREAMers occupation on the steps of the amphitheater in front of Garrett Hall response to to end DACA.
Former President Barack Obama issued an executive order in 2012 establishing DACA, which provides protected status to those who immigrated to the U.S. without legal permission as children.
Approximately 200 students, faculty and community members held posters and yelled chants in the rain to demonstrate of their support of the program's recipients. The crowd chanted "Protect DREAMers and families" and "No hate, no fear, DREAMers are welcome here."
Paola Sánchez Valdez, a fourth-year Curry student and president of DREAMers on Grounds, spoke to the crowd about Trump's decision to end DACA and the effect she thinks it will have on the community.
"I am here standing before you because of DACA. Yesterday DACA was repealed. Do you know what that means? That means that our peers, our neighbors, our friends are under threat," Sánchez Valdez said. "We're standing here today … in this pouring rain … to let [DACA recipients] know that there's a whole community that stands with them."
Natalie Romero, a second-year College student, was in downtown Charlottesville Aug. 12 when a vehicle plowed through a crowd of people protesting the white nationalist She vocalized her strong support of taking action against the violence that has been inflicted on the Latinx and immigrant community.
"I come [to the rally] because I have a lot of friends who have DACA," Romero said. "I'm reminded everyday that there is a battle we need to fight, and I'm reminded all the time that there's still so many obstacles for us to overcome."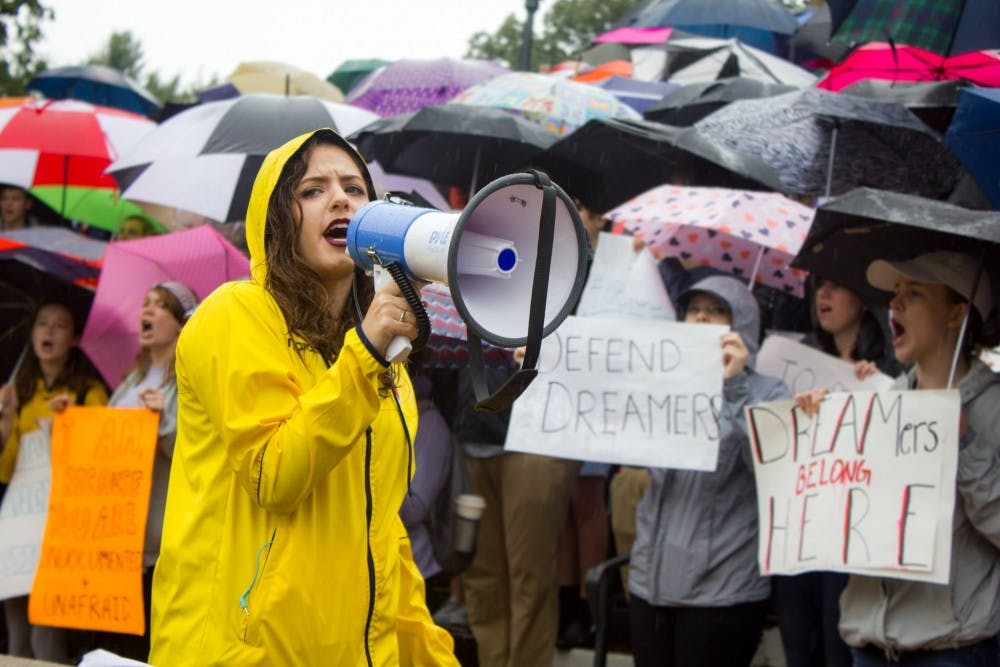 Jacqueline "Jackie" Cortes Nava, a fourth-year College student, moved to northern Virginia from Mexico at age nine and is a DACA recipient. She said she is hopeful that DREAMers and their allies can work toward a solution.
"I'm really optimistic. I think we're asking for something that the undocumented community, the immigrant community deserves and needs," Cortes Nava said. "I'm optimistic because I have faith in the people, I have faith in our allies, I have faith in the undocumented and immigrant community."
Student Council passed Tuesday night. In addition, various student groups have voiced their support of DREAMers on Grounds, including University Democrats, Black Student Alliance and Asian Student Union.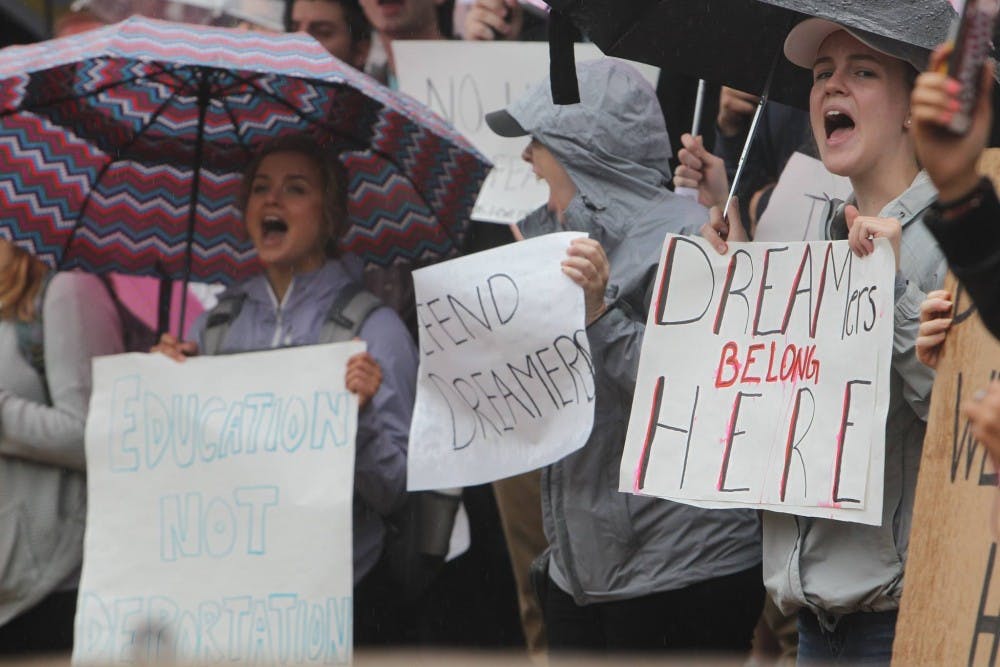 Brett Curtis, a fourth-year Curry student and University Democrats president, attended the protest and affirmed his organization's support of DREAMers as well as politicians who will work for legislation to protect DREAMers.
"UDems stands with DREAMers and will continue to do everything we can to support our DACA students and ensure that all student across the country are afforded the same opportunities and rights," Curtis said. "More than anything we have to use our power to vote the right people into office as well to ensure that we are able to pass legislation to protect all these students."
Adam Kimelman, a third-year College student and College Republicans Chairman, voiced his support for the #HoosForDREAMers occupation and also hopes DREAMers on Grounds will work to advocate for permanent legislation to protect DACA recipients.
"I would say that we definitely stand with people on Grounds who are involved with the DACA program," Kimelman said. "We are definitely hoping to see if we can hopefully affect the legislative process to the point where we get them a more permanent solution."
Trump had promised to bring an end to the program if elected president.
In a tweet Tuesday night, Trump suggested Congress will have six months to enact legalize DACA before the program phases out.
DREAMers on Grounds will be holding their first general body meeting Sept. 15 to formulate next steps in their fight to protect DACA recipients.