news
Man attempts to cut black shroud from Lee statue
Albemarle man uses knife to remove part of covering hours after city installed it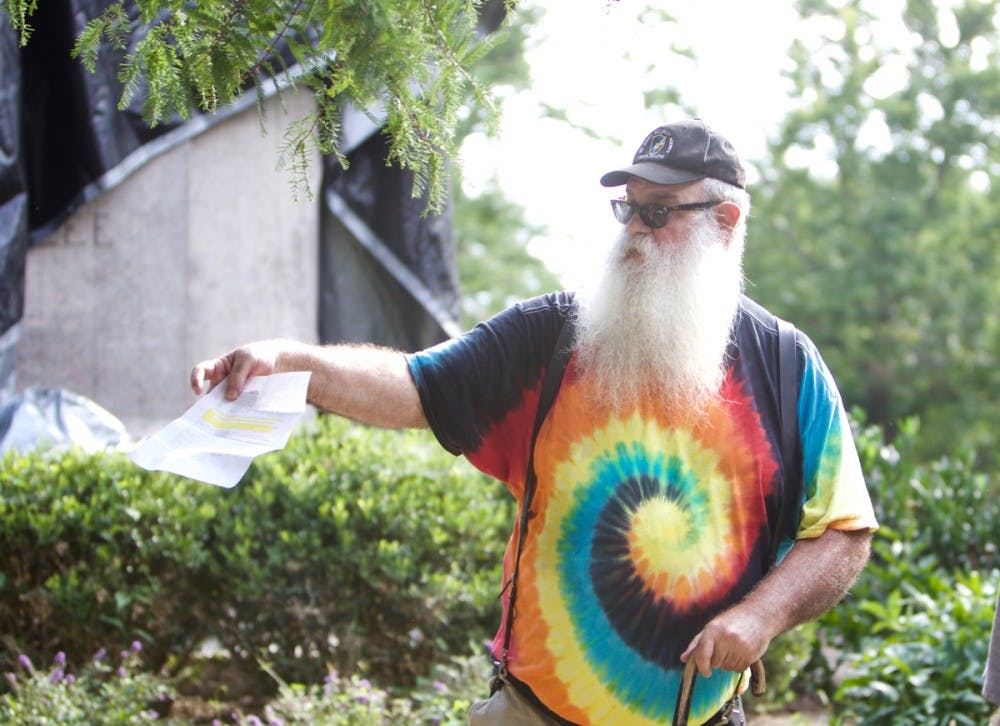 John Miska tried to cut down the covering over the Robert E. Lee statue in Emancipation Park on Wednesday. He later passed out information about a state law that limits what localities can do with war memorials.
Richard Dizon | Cavalier Daily
Just hours after Charlottesville officials draped black shrouds over the statues of Robert E. Lee and Thomas "Stonewall" Jackson near downtown, a local man attempted to cut down the covering over the Lee statue.
"I was here caring for the memorial because it's been defaced by this tarp," said John Miska, an Albemarle County resident who used a knife cut through a part of the covering Wednesday afternoon before police asked him to stop.
At Monday evening that went into the early hours of Tuesday, City Council voted unanimously to conceal the statues as the city mourns three deaths and heals from various acts of violence connected to the white nationalist .
The coverings were installed early Wednesday afternoon.
In addressing community members and reporters who quickly gathered at Emancipation Park after word got out that he was trying to remove the covering, Miska said the city was attempting to erase history by concealing the statue of the Confederate general.
"[Lee] fought for the wrong side, he fought for the wrong ideals," said Miska, pointing at the statue. "We need him to be there so that we can point at him and say he fought for the side that lost."
He also cited a state law limiting the city's powers over war memorials.
"It shall be unlawful for the authorities of the locality, or any other person or persons, to disturb or interfere with any monuments or memorials so erected, or to prevent its citizens from taking proper measures and exercising proper means for the protection, preservation and care of same," reads of the Virginia state code.
The city is involved in ongoing litigation over whether it has the legal authority to remove the statues. City Council in favor of removing the Lee statue.
"This is a war memorial and the city does not have the right to deface a war memorial," Miska said.
Other members of the crowd pushed back on Miska and asked him how much he knew about the history of the statue.
Deborah Poulin, who said she is a manager at a downtown store and has worked on the mall for 20 years, referred to the Lee statue as "a catalyst for a much greater issue in this country" and called for improved conversations between different groups of people.
"We can keep arguing over how much does he know about this and what date about that, when was this erected…but the problem is, is that we have to start having a more reasonable dialogue about what is happening in our country right now," said Poulin, who described herself as a "a liberal voting American woman."
Another community member, Carrie Sours, said she wanted to see the Lee statue transformed into a new type of public space.
"We need to take down the garbage bag, take away Robert E. Lee to a museum, leave the pedestal and let people take turns," Sours said. "It will be like a soapbox and people can talk — obviously there'd be a lot more rules and stuff involved, but that's my idea."
Before leaving, Miska also suggested the city hold a referendum on the statues and said he was armed because of recent threats made against him. He recalled being downtown on Aug. 12 and condemned various groups of activists who he described as being violent.
"I was here and I did not see many American flags," he said. "I saw communist flags, I saw socialist flags, I saw antifa flags, I saw Nazi flags, I saw vanguard flags and I had the opportunity to tell both sides to go f—k themselves."
Lauren Musso, who lives just outside of Charlottesville, was among some of the community members who helped Charlottesville Parks and Recreation workers re-secure the tarp with duct tape.
"We just decided to come out and see the memorial down there for her [Heather Heyer] where it all happened," Musso said. "And we just happened to walk by because we drove past, and they had the statue covered. And we saw this man cutting the tarp so we just stayed and watched all of it unfold. I recorded everything, from him pulling out his knife to when it all dissipated and everybody started leaving."
Aaliyah Jones, who has lived in Charlottesville her entire life and was a friend of the late Heather Heyer, was at the library when she noticed police officers and reporters gathered around the statue.
"I'm like, 'What is going on right now?'" Jones said. "I said, 'I hope they haven't done nothing to the plastic that was covering the statue 'cause they had just did it this morning.' And your mom [Musso's mom] was trying to block him [Miska] from doing it."
Jones said she's been visiting Heyer's memorial on Fourth Street and Emancipation Park every day since Aug. 12.
Heyer, a 32-year-old woman from Charlottesville, through a crowd of people near downtown protesting the white nationalists. The attack also injured 30 other people.
Two members of the Virginia State Police — Trooper Berke M.M. Bates and Lieutenant H. Jay Cullen — died Aug. 12 when a helicopter assisting law enforcement efforts in the city crashed in Albemarle County. Authorities do not suspect foul play was involved in the crash.
"You know to me, it [Charlottesville] doesn't feel the same," Jones said. "It feels like people are afraid, scared. People are hurting."
This article has been updated.