news
Following historic election, Walker to be city's first African-American female mayor
Charlottesville City Council elects Nikuyah Walker, an independent, to mayorship in 4-1 vote
Current mayor Nikuyah Walker is the first Independent to serve as mayor since 1948.
Geremia Di Maro | Cavalier Daily
Charlottesville City Council elected Nikuyah Walker as mayor and Heather Hill as vice mayor Tuesday night, both of whom will serve two-year terms. Walker is the first African-American woman to serve as mayor of Charlottesville, and she was also the first independent candidate since 1948.
Walker and Hill will succeed former mayor Mike Signer and former vice mayor Wes Bellamy, respectively. Signer and Bellamy were elected to Council in November 2015 and will continue to serve out their four-year terms on the five-member City Council.
Both Walker and Hill were elected to City Council this past November. Tuesday was their first meeting as councilors.
Each member of the Council delivered an opening statement before the election process began, discussing the trajectory of the body as a whole and the merits of each member to be elected as either mayor or vice mayor.
In her statement, Walker said many city officials have long discussed a need for change in Charlottesville but consistently fail to achieve any improvements in racial equality.
"I think when you talk about where we are as a city and moving forward, there is a lot of work to be done," Walker said. "There are people in this community who talk about change and the change that is necessary for us to truly move forward but don't really understand what that means or really looks like."
Walker also said that the Council and community as a whole have been unwilling to have the uncomfortable conversations concerning racial inequality, and that she would strive to bring such topics to the forefront moving forward.
"I am a person who is very comfortable with being uncomfortable, and that makes people uncomfortable," Walker said. "The work that I've done in this community was with people who have been uncomfortable most of their lives, and that is a completely different place than most people who usually frequent the spaces in Council."
Bellamy nominated Walker for the position of mayor, which Signer seconded. Hill nominated Councilor Kathy Galvin for mayor, a motion which Galvin seconded. Walker also nominated Bellamy, which he later declined.
Bellamy said that electing Walker as mayor would represent a crucial step in empowering female leadership and serve as an essential action in promoting equality in the Charlottesville community.
"I think it is important for African-American men to show that we are able to step aside and support our sisters … and allow them to lead," Bellamy said. "If we truly believe in changing the narrative, if we truly believe we're about equity … then we need to vote for Ms. Walker, and let's start turning the page."
Signer said supported Walker to be mayor not for symbolic reasons, but rather that his decision was based on her answers to his earlier questions and her overwhelming support within the Charlottesville community.
"I do not vote for symbolic victories — I do not vote for symbols," Signer said. "That is not why I voted for Ms. Walker. I voted for her because her answers were good — she has a large support amongst an engaged citizenry at a crucial moment in our time."
Walker received the most votes of the six candidates in November's City Council election.
During the public comment portion of the meeting, a number of speakers offered their support for Galvin's election as Mayor, citing her experience as a member on the Council for the past six years. Galvin, who was elected to Council in 2011, is currently the body's most senior member.
Both Signer and Galvin questioned Walker on her ability to work effectively with the members of the Council after she allegedly refused to meet with either of them in recent weeks. Walker said she would be willing to cooperate with the Council, but that she was waiting until her term officially began.
Walker also claimed that Signer had worked against her campaign during the campaign and was skeptical of the authenticity of his congratulations after her election.
After questions among the Council members concerning the strengths of each nominee, every member voted for Walker with the exception of Councilor Galvin. Walker's election was followed by a lengthy standing ovation and applause from the crowded Council chambers.
Walker's election to Council was a major upset to the local Democratic Party, as she was the first independent candidate elected to the Council since 1948. All other members of Council are members of the Democratic Party. Walker's campaign was defined by the issues of affordable housing, local government transparency and addressing racial inequality in the Charlottesville community.
For the election of vice mayor, Signer nominated Hill, a motion which she seconded. Walker nominated Bellamy, a motion he also seconded. Hill was elected 3-2 with votes in favor from Signer, Galvin and herself.
Before she was elected as vice mayor, Hill said that the community and the Council need to work together in order for the city to move forward.
"I recognize the ongoing frustration that interests and concerns have not been addressed," Hill said. "Unfortunately, unless we are given a chance to do things in a new way, we will continue to be unable to address current crises or make changes to policy or governance that have gotten us here. The five of us on Council first and foremost need to work effectively together."
"I'm asking all of us, on Council and in the community, to give this new Council a chance," Hill said.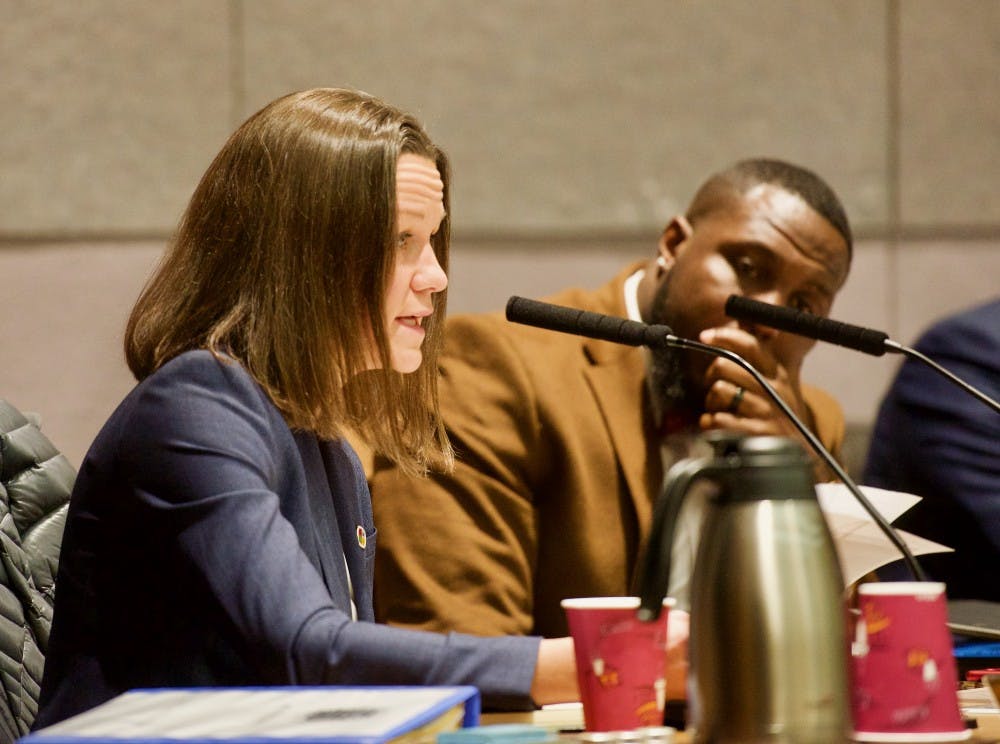 The mayor of Charlottesville is selected by the Council every two years from among its current members and is chiefly responsible for presiding over Council meetings as well as structuring the meeting agenda with the city manager. The vice mayor sits in for the mayor at Council meetings when he or she is not present.
Under Charlottesville's council-manager form of government, the mayor is not the chief administrative official in the city. Rather, City Council appoints the city manager, who serves as the city's chief executive officer and implements policy per Council directive.
Signer — originally elected to the position January 2016 at the beginning of his term on Council — declined to be considered for reelection by the Council citing a tradition of only serving a single term in the position.
Signer's role as mayor in the past year has been the subject of much criticism by some community members at Council meetings in recent months. Many community activists have called for Signer's resignation from the Council and some have personally blamed him for the mismanagement of the events of Aug. 12, which resulted in after a car plowed into a crowd of counter-protesters on Fourth Street near the Downtown Mall.
Signer's initial vote against the removal of a in Emancipation Park — formerly Lee Park — also garnered criticism by activists in February of last year. Signer later supported removing the Lee statue and the Council in September to remove the statute of Confederate Gen. Thomas "Stonewall" Jackson from Justice Park near Court. However, the city has been unable to remove the statues due to an ongoing lawsuit.