news
Hundreds gather on Lawn in walkout to end gun violence
The protest was held in solidarity with the victims of the Parkland shooting
The protest encouraged students to walk out of class at exactly 10 a.m. and was planned by Student Council in coordination with the National School Walkout campaign.
Chandler Collins | Cavalier Daily
Several hundred University students participated in a walkout on the Lawn Wednesday to demand action to end gun violence, one month after the Feb. 14 shooting at Marjory Stoneman Douglas High School in Parkland, Fla.
The protest encouraged students to walk out of class at exactly 10 a.m. and was planned by Student Council in coordination with the National School Walkout campaign, in which high school and college students around the country walked out for 17 minutes to honor the 17 victims who died in the shooting.
Around 1,000 students, faculty and community members attended the event, with many wearing orange shirts and holding signs. One read, "Protect kids, not guns."
Student leaders stood on the steps of the Rotunda during the demonstration and read suggestions to legislators at the local, state and national level for gun reform.
The list of suggestions made by the Council included banning assault weapons and implementing universal background checks for weapons sales.
Sarah Kenny, Student Council president and a fourth-year College student, led the event and the crowd in chanting, "Enough is enough." In an interview with The Cavalier Daily, Kenny said she is not afraid to make a political statement on the issue of gun violence.
"I don't believe that you can separate politics from the issue of gun violence because policy is needed to change our communities and environments," Kenny said. "This isn't a truly polarizing issue in terms of public opinion. It has been polarized through special interest groups like the NRA in Washington."
Asst. Prof. Nomi Dave planned to organize a walkout for faculty but decided to coordinate a larger event with Sarah Kenny, instead of two separate walkouts. Kenny worked alongside Dave, who has been an advocate for gun reform for a number of years.
"Gun violence prevention in terms of the national movement is really about presenting this kind of violence, wherever it occurs, not just after mass shootings," Dave said. "There are so many instances of gun violence which go beyond mass shootings, but mass shootings are the greatest context which garner national attention."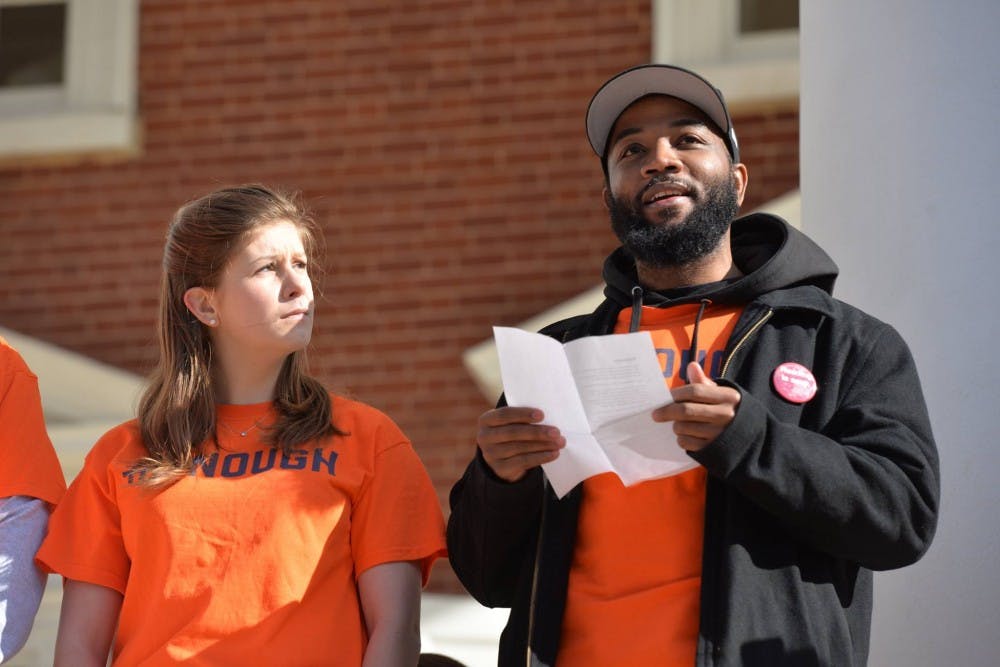 After reading the list of suggestions, Kenny introduced A.D. Carson, assistant professor of hip hop and the Global South, to read a poem on the intersectionality of race and poverty within the issue of gun violence.
"Time has taught me that mine is not the reality you choose to see," Carson's poem read. "My mother's is not the child you wish to save. Designate days and colored ribbons to the fallen from important tragedies, while we PTSD our ways to school and church through abandoned playgrounds … We understand your pain. We live in it. Our hearts go out to you."
In an interview with The Cavalier Daily, fourth-year Batten student Courtney Cuppernull said she thinks the wide coverage of gun violence by the media has numbed the effect of the stories on the general public.
"I really liked sort of the reminder that this is something that does impact certain communities every single day, but you don't hear about that very often," Cuppernull said. "Yes, let's call attention to action that needs to be taken in the wake of the Florida shooting, but also the fact that there are people who live in these realities everyday and they deserve our anger and our fury just as much as any other victim does."
Following Carson's poem, the Council observed a moment of silence upon reading the names of the 17 victims of the Parkland shooting. The University Chapel bells rung 17 times in their memory. Members of the crowd stood in silence and solidarity during the moment of silence.
First-year College student Tessa Danehy told The Cavalier Daily she attended the walkout to show solidarity alongside her classmates. She also said social media platforms have influenced her to share her feelings on the issue.
"I find that Facebook has become more of a platform for social change than it ever was before," Danehy said. "And I find that I'm not getting on and looking at, you know, silly memes and family photos. I'm getting on and seeing heartbreaking stories of things that are going on in this country that I might not have heard about otherwise. And so, I've shed a lot of tears on Facebook recently."
Students gathered afterwards in the Lower Oval Room in the Rotunda to write letters to legislators. Student Council passed out all 500 letters they had to send.
"We were able to mobilize and do something like a letter writing campaign, because representatives have to read all of the letters from their constituents, so it's a very powerful and actual voice," Cuppernull said. "So I like the fact that [the Council] not only combined it with a public demonstration but an action item essentially to really mobilize this support."
Later Wednesday evening, the Minority Rights Coalition held the Solidarity March to End Gun Violence.